Hi Guys,!!
Happy Wednesday!  How has your day been going today?  What did you do today?  After the husband and kids left for the day I did a few chores in the morning and then headed up to my craft room to film my latest video.  This latest card I made I just love.  I know I say that with all my cards but I truly love them all.  Here is a picture of the card I made.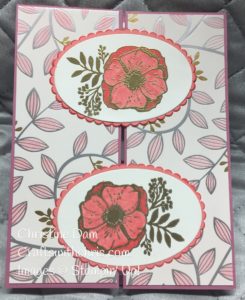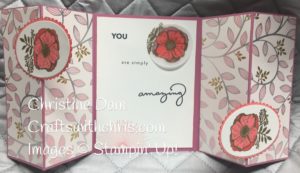 I know so pretty right?  The products Stampin Up has are amazing!!  I could not create such a beautiful card without these products.  I used two free Saleabration items, Amazing You and the Springtime Foil Designer Series Paper.  I love that paper so much.  It is so beautiful.
I watched a video by Jennifer McGuire yesterday and she posted how to make this fun fold card.  I used her fun fold and created my own card using Stampin Up products.  I made a video on how I created this card.  Here is the video:
This is one of my longer videos.  I try to keep them short but sometimes they are longer so I can give you all the details.  I do love my 5-minute Friday video's but sometimes you need more info then what 5 minutes give you.
  So if you guys love the Amazing You stamp set or the Spring Foil paper you only have 3 days to get these items.  You need to spend $50 and you can earn one of these items, if you spend $100 then you can get both for free.   If you want either of these items you need to hurry.  Please shop hereand you also will get a gift from me in the mail as a thank you if you use my March Host code CG9BVDPB.  If your order is $150 or more do not use my host code you will get your own rewards but don't worry you still will get a special gift from me.
I am very thankful for all you guys!!  You have helped me from the very begging of my Stampin Up journey.  I started from scratch and it's amazing to see all the people who subscribe, like, share and support me.  I first started 18 months ago.  I started a YouTube, Blog, and Facebook Page from scratch.  I now have 2778 subscribers on YouTube, and 131 follows on Facebook.  This is just crazy to me and I thank you guys so much!!  The best part has been the friendships I have gained since Stampin Up.  Some of you guys have reached out to me and we have now become friends.  I have gained a lot of friends with other Stampin Up Demos and I look forward to many more friendships.  So thank you guys so much for all the support.
Anyone who places an order for the remainder of March and uses the March Host code will get a set of my handmade cards.  That's with any and all orders for the next three days.  So get your free Saleabration items, and a free set of cards from me too.  Thank you guys for everything
Happy Wednesday!!