Hi Guys!!
Happy Monday!  How are you guys today?  I hope all is well with you today!  I know it's Monday and most people do not care for Mondays but as a stay at home mom I tend to really like them.  lol  It's a nice sunny day today and that sunshine makes a world of difference.  It started off cold but the temperature is 45 degrees currently and our snow is melting very nicely.  I will not be sad to see it go.  I am looking forward to getting outside and walking and playing in the yard with the kids.
I take part in monthly swaps with other Stampin Up Demonstrators each month.  I love that I can build my cards up with other talented stampers.  I was also lucky enough to get in on the first pre-order for the Stamparatus last year.  My Stamperatus came to me on March 1 and I have been using it like crazy.  I love all the versatility we get with it.  It has open sides so there is no restriction on paper size.  There are 2 plates that you can utilize the front and back for 4 different stamping images.  The seller for me is the Hinge method.  You can move the plate down on the hinge and stamp images that will line up perfectly.
  Here is a video Stampin Up has released on the Stamparatus
So I used the stamparatus to make my swaps.  It comes in handy when you have to make many cards at a time.  Here are the swaps I made: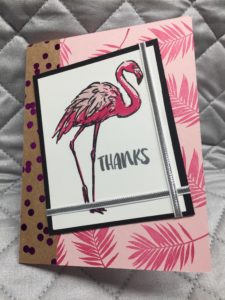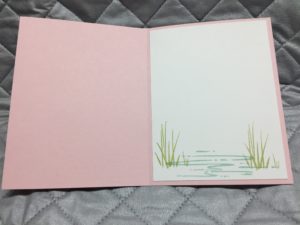 The theme this month was Bling.  So I used wink of Stella on the flamingo.  I also used Foil Frenzy Specialty Designer Series Paper and Silver 1/8″ Ribbon.  I embossed the Thanks with silver embossing powder.  Lots of bling on this card.  I can not wait to see all my swaps I will get back in the mail in April.
So Saleabration is almost over.  I know I am sad too.  Have you made all your purchases in the occasions catalog yet?  There are only 5 days left guys!!  Get shopping before it's too late.  My 5-minute Friday last week I used a couple of Saleabration items.  I did the Black Ice technique on the card.

Have you heard of this technique?  It's an older technique but lately, everyone is making cards using this technique.  I thought I would share this with you guys too.  I used the Amazing You Clear-Mount Stamp Set to stamp this out.  You take your basic black ink and rub it very lightly over your foil paper.  Then you will stamp your images with basic black on your foil paper.  Be careful not to press down too hard or your image may slide and cause it to be blurry.  You want to make sure it is completely dry for this next step.  You can use the heat tool to dry it completely.  Then you take your versamark ink and do the same thing.  Rub it very gently over the top of the foil.  Then use clear embossing powder over the top and heat it.  It really is a wow effect!!  I also used the Basic Gray ribbon from the 3/8″ (1 Cm) Shimmer Ribbon Pack that is free also during Saleabration.  If you want either of these items you need to hurry.  Please shop here and you also will get a gift from me in the mail as a thank you if you use my March Host code

CG9BVDPB.  

If your order is $150 or more do not use my host code you will get your own rewards but dont worry you still will get a special gift from me. Here is the video of the card I made above:
Happy Monday!!