Hi Guys!
Happy Friday!!  How was your day?  My kids had the day off because it's good Friday.  We spent the day hanging out and they played video games and I finished my Easter Shopping up.  It was a rainy, gloomy day today.    I am trying to get caught up with thank you cards for all my customers.  I love that I need to make thank you cards.  🙂
I had a little time today in my craft room and I was able to make these cute little baskets.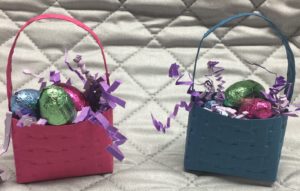 They are so cute and the Hersey's chocolate eggs fit perfectly inside.  You can fit 3 in with the Easter grass.  These are so easy to make and I did not come up with these.  There are a bunch of people making these but I had to share with you guys because they are too cute.  I used the Basket Weave and Cable Knit folders to make these and you can get both of these folders free until March 31, 2018.  So you have until tomorrow to take advantage of Saleabration.  If you want to purchase these items click here to purchase them.
Did you know if you sign up to become a Demonstrator during Saleabration you get two free stamp sets out of the current catalog at any value?  You can not choose any Saleabration ones but any others you can.  I always tell anyone who is joining to pick the most expensive sets that you want.  It's a great time to join.  Anytime is a great time really but especially now.  If you want more information on joining my team please click here.  If you would like to join right now click here.  My team and I have a really fun time and we have our own team page where we bounce ideas off each other, and share tips and techniques.
Did you know that I have a newsletter that I offer?  It's a monthly newsletter but sometimes I will send out a newsletter if something important has happened or there is a special or sale happening at Stampin Up.  If you have not signed up for my newsletter yet please head over to my website here and fill out your information.
Here is the video on how to make those cute little baskets.
Happy Friday!!