Hi Guys,
Happy Sunday!!  I hope everyone has had a great weekend.  What did you guys do?  We celebrated Easter yesterday with my family.  We always head up to my parent's house about an hour away and celebrate with my brother and his family.  There was a lot of snow at their house so we could not do an Easter egg hunt outside so the kids had to find them inside.  I made a basket for my niece and nephew.  They are 2 and 5.  I used my Cricut and the easy-press and made them these cute shirts and put their names on these bunnies I bought at the dollar store.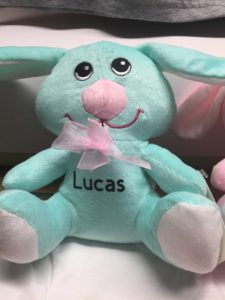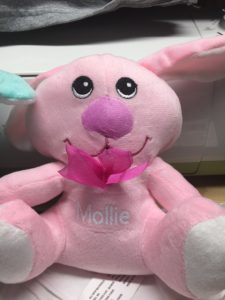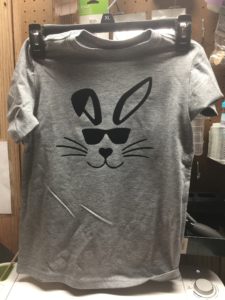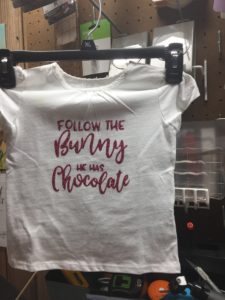 I love how easy it was to cut and then use the easy press to put these on.  They loved the stuffed animals and my sister-in-law loved the shirts.
I also have been busy as my team of stampers is growing.  I love having other stampers and crafters on my team.  We have fun and share our ideas with each other and learn new techniques from each other.  This is exactly why I joined Stampin Up, so I could meet and connect with others who shared the same passion I share.  We have a team facebook page where we post ideas, our projects, and the latest Stampin Up news.  I give anyone who joins my team a welcome gift and I also let them pick a stamp set from the current catalogs valued at $25 or less.  It's just my way of thanking them for joining my team.  If you would like more information on my team please click here.   If you would like to join right now please click here
I also have been busy working on customer thank you's.  I am so excited because I have regular customers now.  I love interacting with all my customers and I love getting their Thank you cards made and the little gifts I give them.  You never know when you order from me what you will get in the mail from me and you can always count on a homemade thank you card with every order.  Here is the thank you cards I made for March orders.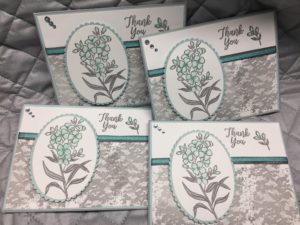 I used the Southern Serenade stamp set out of the Occasions catalog.  It is one of my favorites.   I used Basic Gray as the card base.  I then cut out Soft Sky cardstock and layered it on top of the basic gray.  I then cut a piece of Whisper White cardstock and stamped 3/4 of it with the lace/flower stamp in basic gray.  I then layered the free Bermuda Bay and Basic Gray Shimmer Ribbon across the front of the whisper white.  I then stamped Thank you and the single flower in basic gray and colored it with the Stampin Blends basic gray and pool party.  I used the light and dark in each marker.  I used the largest layering oval framelit and cut it out in whisper white.  Then I used the largest scalloped layering oval framelit and cut out soft sky.  I used wink of Stella around the edges of the scallop oval.  I then stamped the bunch of flowers on the whisper white oval with basic gray.  I used the Stampin blends to color in the flowers and then used Stampin dimensional to pop it up on the front.  I put some Rhinestone Basic Jewels in the corner for some extra bling.
So I hope you guys get your shopping in and get the products you want!!  Time is running out.
Happy Sunday!!