Hi, Guys!!
Happy Sunday!!  How was your weekend?  Mine was great!!  It was a busy Saturday and today was pretty mellow.  We went to the zoo about an hour away from our house.  It is a good size zoo and has lots of animals to see.  I went with my brother and sister in-law and my niece and nephew.  My nephew is 5 and my niece is 21 months old.  My boys just adore their little cousins and they had a great time together.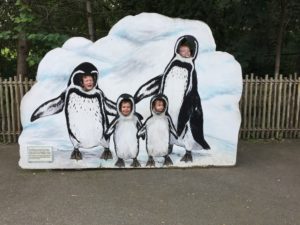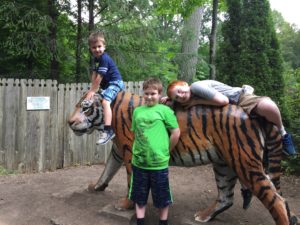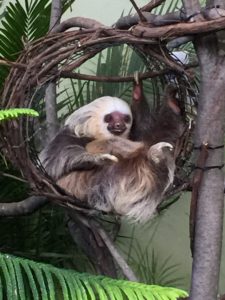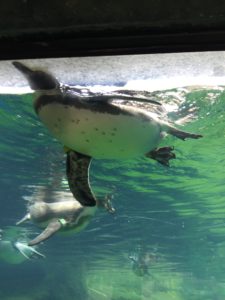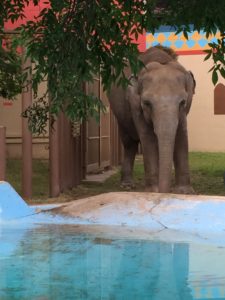 These are just a few of the pictures I took.  The weather was cool and nice for walking around the zoo and after we ended up visiting a local mall and took the kids to an arcade.  They all love video games.  I was exhausted by the time we got home around 7 pm.
So today I spent some time in my craft room.  Being a Demonstrator I was able to pre- order from the new holiday catalog coming available to you guys to order from on September 1.  We were able to order starting August 1 and we were able to view the catalog a few days prior to this date so I had my first list of what I wanted to order all ready.  I put my order in on the first and I received my order this past Friday.  I live on the east coast so it will take a week for me to receive my order from when it is shipped unless I pay extra for shipping.  Which I have paid extra so my customers could get their hands on products the first day they are released to them.  Here is a picture of my order.
I can not show you any pages from the catalog except for the front cover.  There are so many great products in the new catalog.  You guys are going to love them.  I played with one called Painted Harvest.  I was so excited to see this one it has my favorite flower and it is a beautiful set.  Look at these cards I made using this set.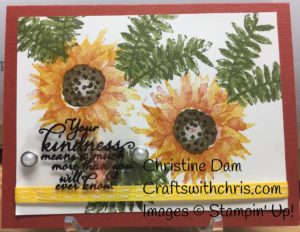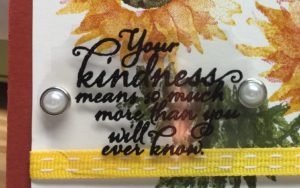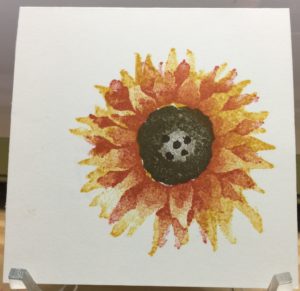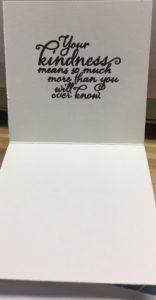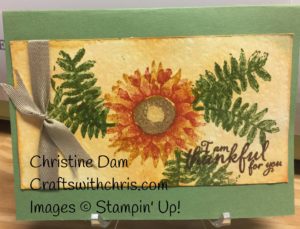 Dont you just love these.  They stamp and look like they were painted on your projects.  So pretty.  I used so many different colors on the flowers.  My favorite color combo was Crushed Curry for the bottom stamp and Tangerine Tango for the top of the the flower and the center Crumb Cake.  These colors are so perfect for the color of the sunflower.
The card with the single flower on it is a 3 by 3 inch card.  The holiday catalog has 3 by 3 envelopes you can buy.  I am going to make a bunch of these size cards and give them as gifts.  They will make nice tags for gifts or nice for a quick little note.  Let me know what you think of this set?  Are you excited to purchase this one?
Happy Sunday!!!