Hi, Guys!!!
Happy Friday!!  How was everyone's day today?  I hope everyone had a fantastic day.  I spent the morning grocery shopping and then my boys helped me clean the house.  They are pretty good about helping me if I ask but usually, they do not volunteer to clean on their own.  lol
Another Demo and I were brainstorming a few days ago and we came up with some challenges for our fellow Demos.  We thought we could have them do a video on Thursday called 3 minute Thursdays and on Friday a Five-minute video.  They just create a card or what ever they want with in a 3-minute video.  They can edit the video and speed things up too.  We are trying to help them get their feet wet in the video making department.  The Demo I was working with did a video for Thursday and I did the Five minute Friday video.  Here is the card I created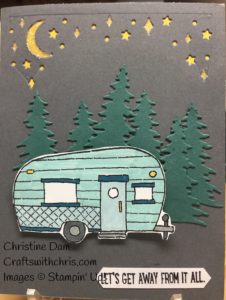 I used the Card Front Builders Thinlit Dies and the stamp set Glamper Greetings.  That was one of the first stamp sets I received in my Stampin' Up! Demo Kit.  I love this stamp set so much and have used it a lot.  I knew when the Card Front Builders Thinlit Dies came out I had to have them and use them with this stamp set.  So I used Daffodil Delight as the card base which is an A2 card (4 1/4 by 11 and fold in half) and Basic Gray cardstock measured at 4 1/4 by 5 1/2 for the front.  I used Snail Adhesive to glue the Basic Gray cardstock on the Daffodil Delight card base.  I cut the trees out with Tranquil Tide cardstock and stamped out the camper and sentiment on Whisper White cardstock.  I fussy cut the camper (used scissors).   I colored the camper with the Stampin' Up markers.  I used Island Indigo, Pool Party, Soft Sky, Daffodil Delight, Smoky Slate, and Basic Gray.  I also used the Stampin' Up! fine tip glue pen and filled in some of the stars and moon and then sprinkled Dazzling Diamonds glitter over them.  I glued the trees to the front of the card using the Multipurpose Liquid Glue.  I used Stampin' Dimensionals on the camper and I cut the sentiment out with the Classic Label Punch.  I glued that down with snail adhesive.  That was all it took to make this card.  It is a very simple one to make.  Here is the video I made and I think I am going to continue to do a 5 Minute Friday each Friday.  What do you guys think of that?
Happy Friday!!!