Hi Guys!!!
Happy Saturday!!!
  I hope you guys have enjoyed your day today!!  It's been such a long time since my last post and I am sorry about that.  It's been so crazy around our house over the last few months.  I'm sure a lot of you guys can relate to that!!
I can not believe that we are coming to the end of 2017.  Are you guys glad for 2017 to be over?  Did you have a good year?  Our year started off terrible with losing our Nana.  She was and is still missed so much.  My kids had a hard time this year without her.  She was a big part of their life and it's so hard not to have her there for them.  I found myself often picking up the phone to call her and tell her something and then remembering that she was not there.  Last Christmas she gave me money so I could buy a Big Shot for my business.  She was very excited for me that I was doing something with all my talents (as she would say) and she told me she could not wait to see me take off.  I miss her so…. I am so grateful I had a very good relationship with my Mother in law.
The middle of the year was pretty good.  Lots of family outings and lots of stuff to keep us busy.  We went on some pretty awesome camping trips this year.  We had a pretty scary end of our year.  On Thanksgiving, my husband was shot while deer hunting.  He was shot in the head.  I know….. He is ok and the bullet missed everything vital.  It grazed his side of his head and the top of his ear.  He is so lucky…. I know his mother was by his side that day and that is why he is still with us.  So I am glad to see 2017 go.
So what do you guys do with your Christmas Cards after you take them down?  I make tags with mine for next year.  Its so easy to do.  Just gather your punches and use them on the front of the Christmas Cards and you will be set for tags for next year.  I have a bag of Christmas stuff and I put them in the bag and then I know right where they are for next year.  I made a quick video showing you how I make my tags.
I put together my customer thank yous and they are going out in the mail sometime next week.  I am so appreciative of my customers I had in 2017.  I love what I do and love that I get to share it with everyone.  I have built some great relationships since joining Stampin Up and I am so grateful for that.  I got a Christmas Card in the mail this year from one of my customers…. I was so excited to receive it.  I am so happy that she took the time out of her day to think about me.  I love it soooo much and it is so pretty.   Thank you 🙂
Here is a picture of the cards that I made using the Southern Serenade stamp set that will be available to purchase on January 3, 2018.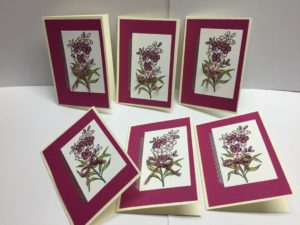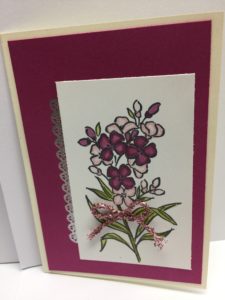 I love how pretty this one turned out.  I also made each of my customers a calendar for the new year.  It has magnets on the back so it can go on your fridge. Here is a picture of the adorable calendars I made.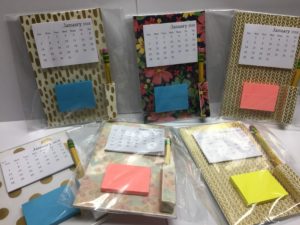 Thank you all who have supported me this past year!!!
Happy Saturday!!!