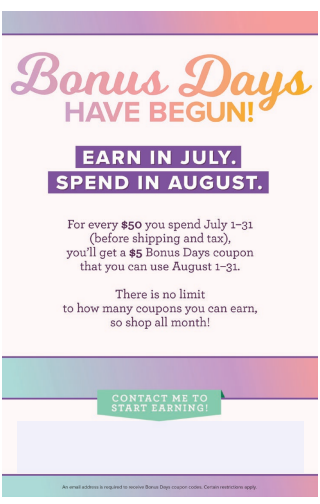 Hi Guys!!!
Happy Monday!!! How is your summer going so far? Mine is flying by as usual. The kids keep me busy most days and nights. I enjoy this time with them because I know they are growing and these times will fade fast. June was very busy with Birthdays and end of school. Last week was their first full week off of school.
So crafting is hard to come by but I have been able to do a little. I am in some facebook groups that do swaps and challenges and this forces me to get some crafting in each month. I am so thankful for that. Crafting is my therapy. What about you guys? Do you make time for stuff that is important to you?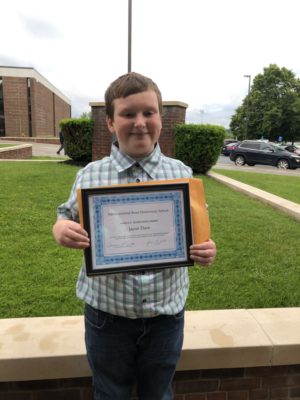 My youngest graduated elementary school this June. I can not believe we have no kids in elementary school anymore. I took this hard… a lot harder than my son. He was one of two students who won an award and $25 for having the highest math average of the year. He held a 99 average all year in math. I am so very proud of him. He definitely did not get his math skills from me lol. He will be in sixth grade in the fall, in a new school and he will be changing classes.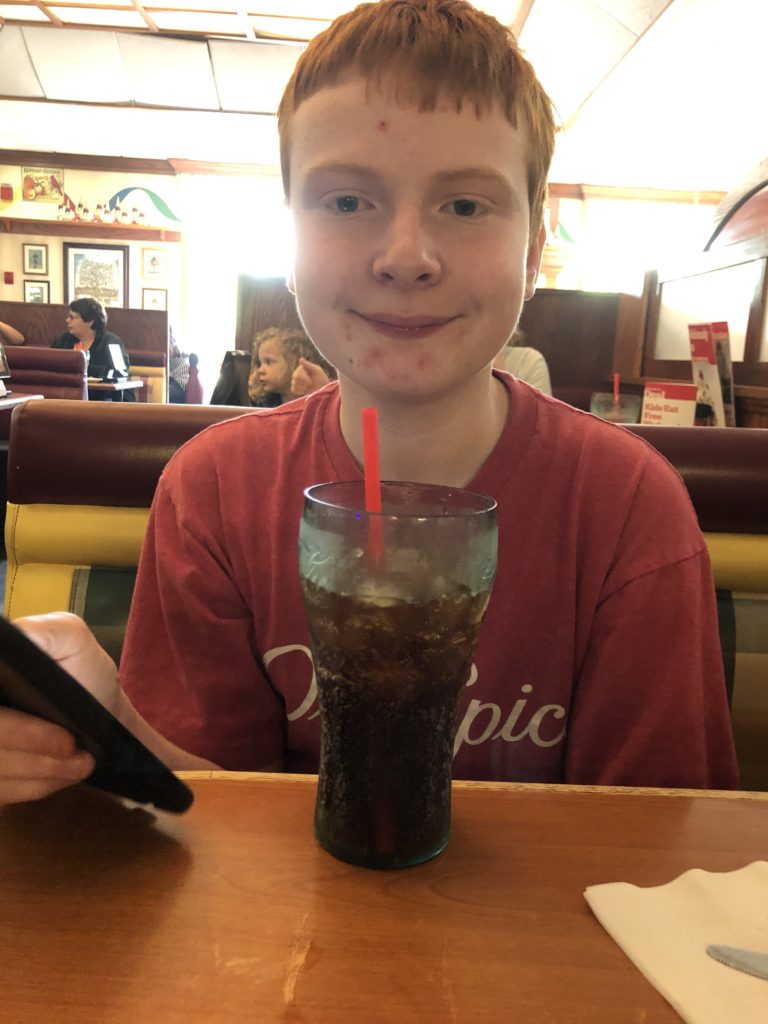 My oldest passed 9th grade and will be heading into 10th grade in the fall. He did well with his first year in high school. He struggled with language last year and this year. He had to take Spanish or French and he choose french in 8th grade. He failed and retook it this year. He barely passed but he doesn't need to take a language for the rest of high school. He really wanted to take American Sign Language but his school doesn't offer it.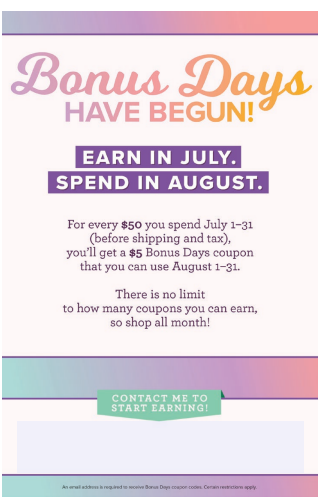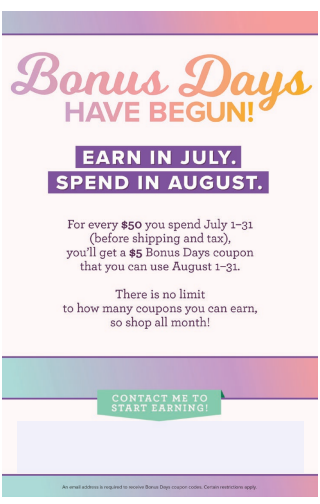 So now let's talk about Bonus Days!! They are back! So what is bonus days? Well for every $50 pre-tax and pre-shipping spent in July you earn a $5.00 coupon to spend in August. There is no limit to the number of coupons you can earn. You will receive your coupons in your email once your order has been placed. And Guys don't forget whenever you shop with me you will receive a hand made thank you card and if you use my current host code I will send you a gift along with your Thank you card. If you have your own host code then I will still send you a gift. I love my customers so much. If you are a regular shopper of mine I send gifts throughout the year too. I know not all demonstrators are alike and you can pick and choose who you want to shop with. Make sure your demonstrator appreciates your business!!
Happy Monday!!! Talk to you guys soon!
Chris