Hi Guys!!!!
Happy Wednesday!!  How is everyone doing today?  It's August already and summer is flying by.  I really hope you guys have been having a great Summer.  I sure am enjoying it and plenty of time with the family.
So did you guys see???  Bonus Coupon Days have started!  Do you remember Bonus Days from last year?  For every $50 you spend you get a $5 coupon code in your email that you get to spend in September!  I know it's awesome!  The new catalog has been out for two months now so you probably still have a list of goodies you want.  Spend now and get those coupons.
So I have been busy making Birthday cards for people.  I love making and sending cards to anyone and everyone.  I actually have a birthday club that anyone can join.  You just fill out my contact form include your address and birthday month and day.  I will then send you a homemade birthday card on or near your birthday.  If you would love to receive a card for your birthday please fill out my contact form here

So this is one of the birthday cards I sent out to a friend.  I love this set so much.  It is so cute.  I used the Stampin Blends to color the animals and I used some watercolor paper in the background with some inks and Aqua painters.  I used white embossing powder on the happy birthday sentiment.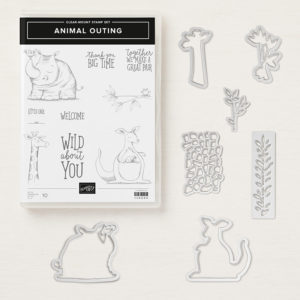 This set is so cute, right?  So I am offering a free set of my cards this month.  If you order from me at my online store here, and you add an ink pad to your order (StazOn Ink Pad, Tuxedo Black Memento Ink Pad, Uninked Stampin' Craft Pad, VersaMark Pad do not qualify) then you can either pick a card kit with 10 cards you can make or a set of 10 cards that I will make for you.  You can choose Birthday, Thank you's or a variety set.  I will mail them out to you for free when your order qualifies.  If your order is under $149 then use my host code SHVC3Y6N and you will be entered in a drawing to win a free stamp set.  This offer is good through August 31, 2018.
Happy Wednesday!!!!