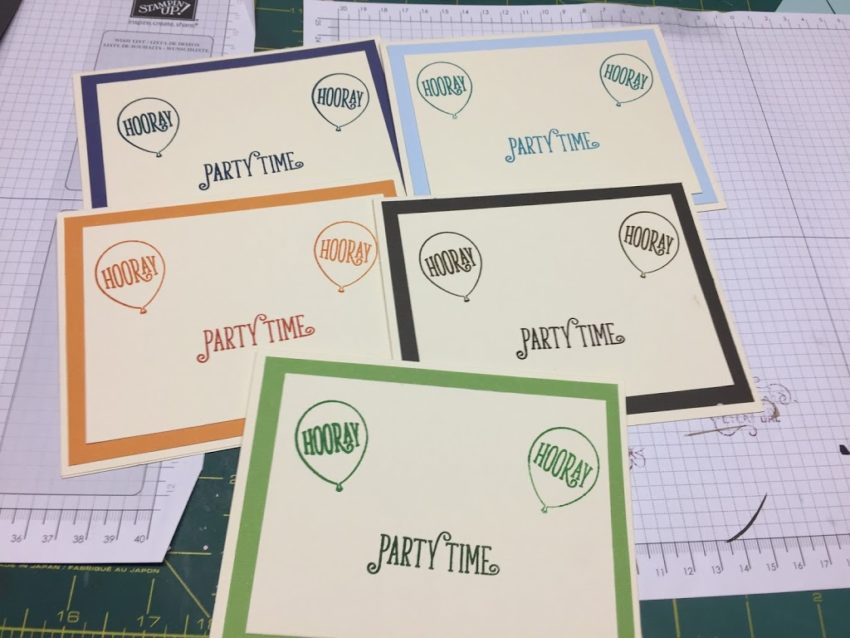 Hi, Guys!!!
Happy Wednesday!! Did you enjoy your day? I have been busy these last few weeks with teacher gifts and birthday stuff for my youngest. Here are the invites I created for my son. He did not want any type of theme other than a birthday one he told me.
They were so easy and that's exactly what I was going for. I used up some of my old non-Stampin Up paper. I really love how Stampin Up paper coordinates and is such a better quality paper than what you can purchase at the craft store. Because of my many years of paper hoarding, I have a lot of different types so I need to use it up.
So between getting ready for my card class I had last week and getting all the teacher gifts and bus driver gifts ready and preparing for Jacobs birthday party, we also had a huge school project that Jacob started back in December. He had to pick a person from a list to write a paragraph on and then do a Tri-fold board on that person and then get a costume and dress up as that person. Last night the kids from all the 3rd-grade classes had to do a wax museum. The parents walked the gym while all the kids stood next to their trifold board and trying to stand still and no talking for an hour. They all were so cute. The gym was so hot and some of the kids were dressed in wigs and gowns. They were great. Here is my Jake as Steve Irwin.
Isn't he just so cute 😁 I am so glad this project is over though? It was so long.
So anyways let's get down to the giveaway now. I have over 1,000 YouTube subscribers. Wow, I can not believe it. I had no clue what to expect when I started filming videos last October and never imagined hitting 500 let alone 1,000 subscribers within my first year. So I want to do a thank you giveaway!! Thank you to everyone who has been following me on this journey. I have a Stamp Set I have been holding onto for a special giveaway and I think this is a special giveaway. Here is the set I am giving away.
Can you believe it!! I love this set and was so excited when it was available during Saleabration. Now you can not get this stamp set through Stampin Up. I have this one and want to give it away to one of you guys. All you need to do is comment on this post and include your email address so I can contact you if you win. If you comment on my other social media sites you will get another entry and if you share this post or my video, Facebook or Insta Gram post you will get another 2 entries for this giveaway. Here are some of the cards I have made using this set and there were more but I have given them away to people.
Good luck everyone!!! Here is a video I made for the giveaway. Happy Wednesday!!!!