Hi, Guys!!!
Happy Wednesday!!  I hope everyone is enjoying their day!  It has been so warm here in upstate NY the past week and it just seems to continue.  We had a pretty lousy summer weather wise and now it seems mother nature is making up for it now.  Our pool is closed along with 90% of the area so we can not enjoy the heat with our pool.  I am ready for the crisp coolness of fall.  I love summer when it is summer and I always say I want to move somewhere where it is warm all the time but the truth is I would be lost without all the seasons ( well maybe I could give up winter!)
Speaking of fall did you see the latest card I made using the Retiform Technique?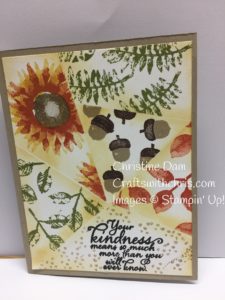 This technique has been around for years and lately, a lot of people have been using this technique so I thought I would try it with the Painted Harvest stamp set.  I love how this card turned out.  I have made a video on how to do this technique.  Its pretty easy to do too.
Here is a list of supplies I used.  You will also need Sticky notes.