Hi, Guys,
Happy Wednesday!!  How are you doing today?  How is your day going?
Today I worked in my craft room most of the day.  I had a dentist appointment after the kids were off to school.  My jaw is still sore so I just hung out in my craft room.  I missed crafting and running my business over the summer.  I have a new fire inside to do well with my Stampin' Up! business.  Starting October 1, 2018, I have the chance to earn a trip to Hawaii for free for me and my husband.  I can pay extra if I earn the trip to take along the rest of my family.  Hawaii is on my bucket list and it would be so awesome to make it happen just by sharing what I love.   I have a year to try to earn the trip.  Every year Stampin' Up! offers a free trip and you have a year to earn it.  So I will be working like crazy to try to make this happen for my family.
I am featuring a new social media campaign.  I will be featuring a product of the week and will be highlighting that product all week long.  It may be a stamp set, a set of dies, ink colors, paper, you will have to tune in each week to find out what the product of the week is.  I will make projects and cards and do my best to showcase this item or items.  I will be blogging at least once every week and my facebook business page will be very active along with my YouTube.  I love making those videos.  I also will feature a Facebook Live every Tuesday morning at 10 am eastern time.
So this week the featured product of the week is Pleasant Pheasant Stamp Set.  This set is a great fall set.  It is a great set for any masculine cards you may need to make.  Here is the set.
I made a couple of cards using this one so far.  In fact, my first Facebook live this Tuesday I made a card with this set.

I love that Chicken Wire Elements paper and apparently, everyone else loved it too because now it's no longer available to order but you could still make this card without the Chicken Wire paper.  If you want to know how to make this card I will leave the link to my Facebook Live here in this post.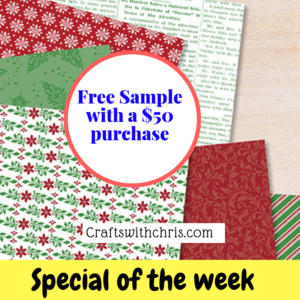 Stampin' Up! is running a promotion this month for anyone who host a party of $250 or more.  You can be your own host and purchase $250 worth of Stampin' Up! products or you could host a party.  You will get a free pack of the Dashing Along DSP 12 by 12 paper that is pictured above.
I am running a special for the whole month of September for anyone who makes a $50 purchase at my online shop and they use the Host Code MCCB9KN7 I will give you a free sample of the Dashing Along DSP.
So I will see you guys next week at my Facebook Live, right?  If you have not liked me on Facebook please do so and share my page.
Here are all the products used to make that card above.
Product List
Here is the Facebook Live where I made the card.  Please give me your feedback.  I know the camera is sideways but i have fixed that issue so next Tuesday Morning it will be on landscape mode.
Thanks for all your support!!
Happy Wednesday!!!