Hi Guys!!
Happy Wednesday and Happy Valentines Day!!  I hope you have had a great day!  I started the day with making my kids some pink heart-shaped pancakes for breakfast.  They complained about the color but gobbled them up.  I try to do something special for my boys on every holiday.  I ended up making 48 goodie bags for them and their classmates and 10 goodie bags for their teachers and bus drivers.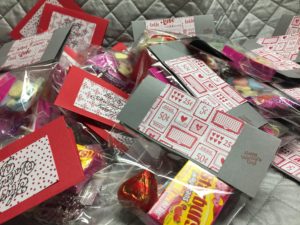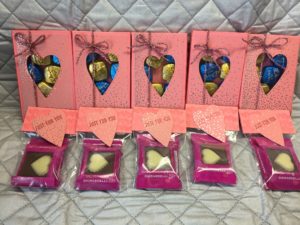 I used last years Sealed with a kiss and Sending Love paper on the kid's goodie bags.  I love that set and that paper was my favorite.  I am just about out of it and thank goodness for some Demonstrator friends of mine who have some and are giving it to me.  I bought like 5 packs of that paper last year and I have used it all year.   The goodies that were made for the teachers and bus drivers I used this years Sure do Love You stamp set and Lots to Love Box Framelits Dies.  I love those Dies.  That box is so cute and I will be using that all year on things.  So I fit 8 square pieces of Dove candies inside and then I cut a heart out of the center of the box.  I made the box with Calypso Coral Cardstock and then layered it with the Sweet Soiree Designer Paper.  The hearts on the tags of the little bags are the Die cut heart.  I used the window sheets to cover the heart cut out and then I finished the box off with Powder Pink Love Mini Tinsel Trim.  I love that I can do this for my kids and their teachers.  I also love that my kids get excited when I tell them I will be making goodie bags for their class.
I ended up making a card and video today.  I love this card so much.  I used Lift Me Up and the matching framelits.  I still love this set.  It was released last year for Occasions and ended up in the Annual Catalog.  Here is a picture of the card

I know its so cute right?  The video needs to be edited and I will upload it sometime tomorrow.  You won't believe how easy it is to make this!
Happy Wednesday!!!