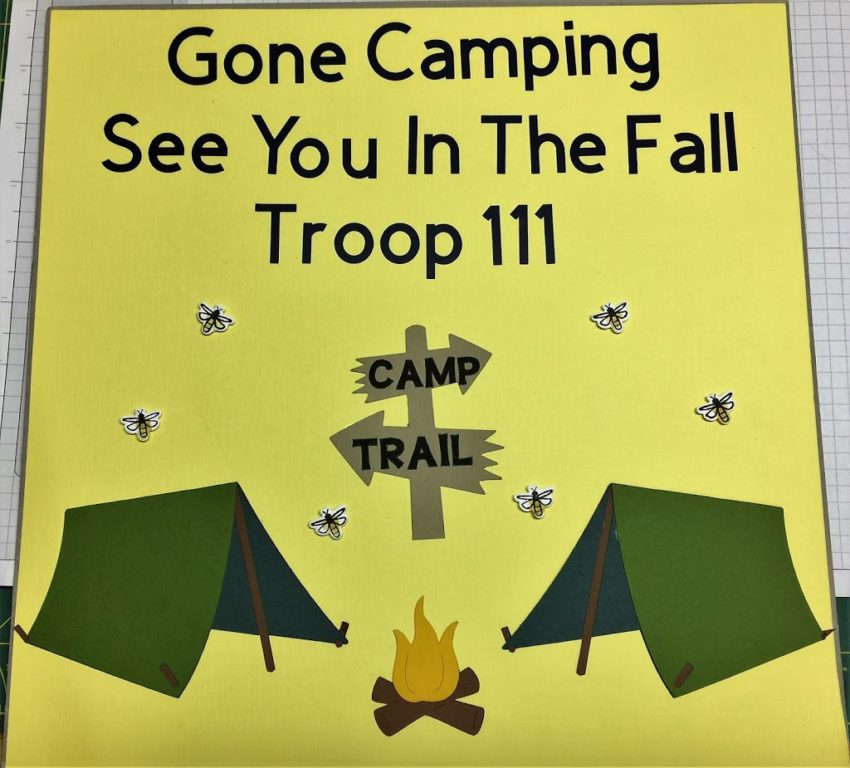 Hi, Guys!!!!
Happy Sunday! Hope you guys had a great weekend so far. Did you guys get to do anything fun? We had a low key weekend, well I did anyway. My husband spent yesterday getting ready to take our oldest son to Boyscout Camp today. He is dropping him off today and my son will spend the next week at camp. He is so excited to go (well as excited as a 13-year-old gets lol)
I was lucky enough to get to play a little in my craft room last night. I had a few things I needed to catch up on. I needed to make a sign for my sons Boyscout Troop. They do a bake sale at the Elks Lodge that supports them all year long. The Boyscouts take off the summer months and I needed to make a sign to let the Elk members know the bake sale will be back in the fall. Here is what I created.
I used my Cricut to cut out everything but the fire flies. I cut the words out of Vinyl, it's easier than trying to glue everything down and trying to get it straight. I used a 12 x 12 piece of card stock I had. It's not Stampin Up Cardstock but Stampin Up does have some 12 x 12 Colors available. I sold a lot of my other cardstock at my garage sale but I still have a lot. I plan on using that up until it's gone.
The fire flies were cut and stamped with Jar of Love Stamp set and the Everyday Jars Framelits. I stamped them with Basic Black and used the Daffodil Delight marker to color the body. I used the mini Stampin Up Dimensionals to pop each one up. I also used my Cricut to cut the vinyl for the First Aid kit for my Sons Boyscout troop.
I also started working on some christmas presents for this christmas. I alwasy try to get a head start but seem to always be rushing at the last moment to get my christmas stuff done in time. I ordered 2018 calendars through Current. They had them buy one get one free a few months back. I always make one for my sister inlaw with pictures of my neice and nephew. Its a nice scrapbook for her each year. She markes on the calendar special things that happen with the kids. I bought a few extras and I am just going to decorate them and give them away as presents to maybe the kids teachers or friends. I have only done one month so far on my sisterin laws but here is what I have so far.
I embossed the 2018 with gold emboss powder and im not sure if I will do anymore decorating on the front. I am going to use a mixture of Stampin Up products and other things in my craftroom. I will post further pictures once I get more done. I am working on another video so hopefully I will get that uploaded in the next few days. Happy Sunday!!!