Hi Guys!!
Happy Saturday!!  How are you guys doing today?  I hope everyone is doing something they love!!  I was able to do something I love and share it with friends today.  I had my card class for this month and it was so much fun.  I had a bunch of people cancel so I ended up with 2 ladies.  I decided to do something a bit more detailed with these ladies. They were up for the challenge and did so good.  We made 3 cards and they had a blast making them and learning different tips and techniques.  Here are the first 2 cards we did.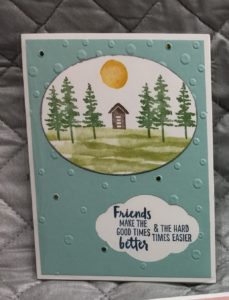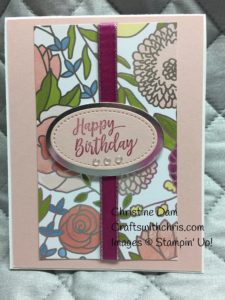 Then I introduced them to Brusho Crystal Colour and bubble wrap.  Have you guys ever used the Brusho?  I have never used it and when Stampin Up introduced it in the new Occasions Catalog I bought it.  I played with it and was not too impressed.  I figured out that I was not using it correctly and that was why I didn't like it.  So after playing and experimenting with it and watching others I now LOVE it.  It is $30 for 5 jars of different colors.  It is very fine powder and it reminds me of a baby powder consistency.  There is a lot inside the little bottles and I do not see me buying any for a long time.  I think the average crafter will only need to purchase this once and it will last your lifetime.  It is currently on backorder but only till January 22.  Here is the card we did :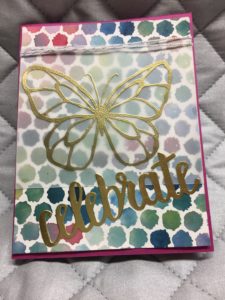 I know its fantastic right??  I absolutely love this technique with the Brusho.  The girls loved this one so much.  They were impressed on how easy it was to create.  This is why I love doing what I do.  To see their faces light up when they created this technique was awesome.  I am already thinking about my next class and I can not wait.  So I made a video on how to do this technique.  The card in the video is a little different.  I used Silver emboss instead of the gold and I used the Berry Burst 3/8″ (1 Cm) Metallic-Edge Ribbon instead of the Silver Baker's Twine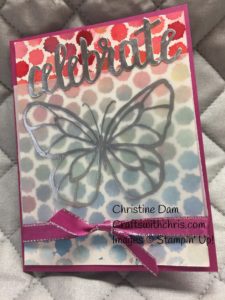 What I love most about the Bubble Wrap Technique is that it will be different each time.  Depending on the colors used, the amount of water used, the paper used.  You can also use this technique with versa mark ink, ink refills, ink pads.  It's so much fun.  I made a video on how to create this beautiful card.
Happy Saturday!!