Hi, Guys!!!
Happy Thursday!!  I hope everyone has enjoyed their day today.  My kids went back to school today so I had accomplished a lot today.  It's amazing how much you can get done with out interruptions and breaking up fights all day.  lol
I have been glued to the weather channel along with everyone else watching Hurricane Irma.  I will be thinking of everyone south of me and I hope it veers off course and heads into the sea.  It has caused so much damage already, it's so scary.  I hope if you are in the path you stay safe and well.
I also did some crafting over the past few days.  I had to make sympathy cards.  I really love making all kinds of cards but sympathy ones.  They are always so hard to make for me.  I went online to find some samples and I found one and then I just added my twist to it.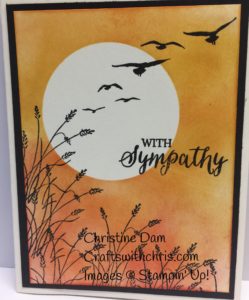 It's such a pretty card and really simple to make.  You can make a few of these to keep on hand for when you need one.  I used very vanilla for the A2 cardbase.  I also used very vanilla for the front of the card which measures 5 by 3 3/4.  The basic black card stock measures 5 1/4 by 4.  I used the stamping sponges and cut them into triangle pieces.  I used three of them for each of the colors I used.  The ink colors I chose were So Saffron, Peekaboo Peach, and Calypso Coral.  I then took sticky notes, the ones that have full sheets of sticky on them.  I cut a circle on my sticky note paper using the Circle Layering Framelit dies and I used the 6th circle.  I count smallest to biggest.  I placed the circle on the front of the very vanilla cardstock to form that very crisp circle.   I then used a scrap piece of paper under my card and started to make circle patterns with my sponge piece.  I then brought this onto my card front.  If you start with the ink right on your card base it could be too dark.  You can always add more ink but once you put too much on you can't fix it.  I used So Saffron and Peekaboo Peach on the whole front of the card.  The Calypso Coral was only used on the bottom left-hand corner.  Once I was happy with the way my inks were on my very vanilla cardstock I lifted the sticky note circle to form that perfect circle.  I then used Basic Black to stamp the Cattails using the stamp set Wetlands from Stampin' Up! (which is retired).  You can use any stamp that has grass or flowers.  A few of the current Stamp sets that would work are Beautiful Bouquet, Jar of Love or Wild about flowers.  I then continued using Basic Black for the rest of the card and I used the birds from the stamp set High Tide.  The with Sympathy was used from the stamp set Rose Wonder.  I then put it together using snail adhesive.  It was a pretty quick card to make and you could make quite a few of these so you would have them on hand.  I really love making all cards but the sympathy cards.  I also created a video on how to make this which I will leave at the end of this post.
I also wanted to remind you guys that there is a special going on until September 10 for new Paper Pumpkin subscribers.  You will get 1/2 off your first kit.  It's a great deal and if you would like to learn more click here
Happy Thursday!!