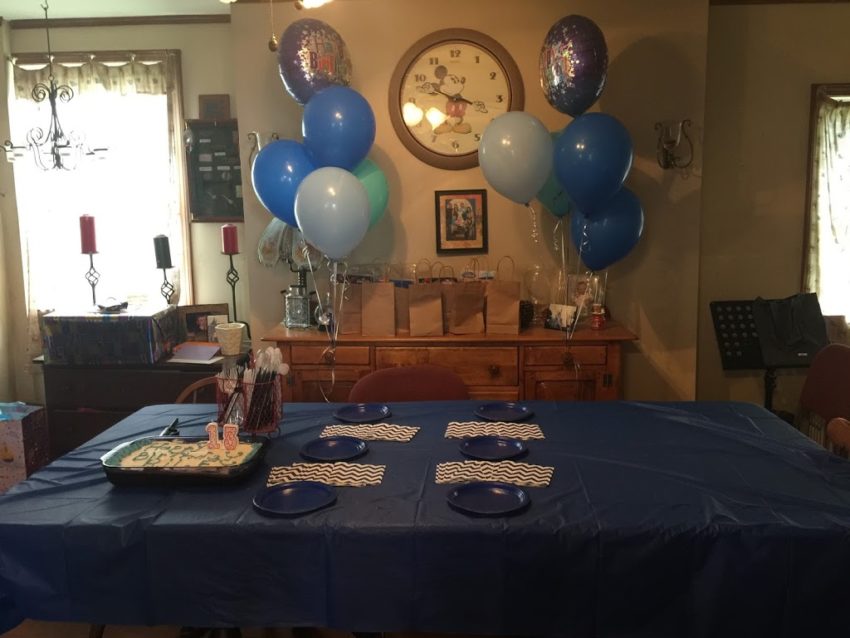 Hi, Guys!!
Happy Wednesday!! How are you guys? I hope your Wednesday is going great! I have had a pretty good day. I was able to make a video and get in my craft room today and I even managed to get some housework done too. Housework is no fun but it has to be done. I hope everyone had a great holiday weekend too. We had a very busy one. My oldest turned 13 and we had a party for him on Sunday which was his actual birthday. We just have family over but he loves it because he gets to hang out with all his cousins for the day. I have done themes over the years for him but he said he didn't care about any themes, so I just went with his favorite color. I also made his cake. When he was really little we use to buy cakes but he prefers the homemade one better he said. I am no cake decorator but it tasted really good.
My youngest son has a project due next week. He had to pick someone from a list of famous people and write a few paragraphs on their life. He also had to do a trifold board and he needs a costume too. My son picked Steve Irwin to do his project on. He loves animals and has the energy of Steve Irwin. My husband, son and I worked on his trifold board on Monday. It was a rainy cool day so it was a great day for inside things. I tell you I am so happy I own a Cricut machine and all my craft supplies. It makes projects so easy to put together. Here is what we came up with
I love how it turned out. My son has a presentation with all his class in a couple weeks. We get to go to his school and watch all the kids in their costumes and act out the character they picked. It should be cute.
I was able to finally make a video today with one of the new Stamp Sets that will be available tomorrow. It's called Colorful Seasons and it such an awesome set. It's for all the seasons and has some great sentiments on it. Here is a picture of the card I created
I love it. It makes me want to grab a book and sit in one of those chairs and just let the ocean waves crash at my feet. I love this set. The card base uses one of the new In Colors Berry Burst. I am loving the new In Colors. You guys can get them tomorrow. June 1, is when the new catalog of stuff is available for purchase. I already have my list for ordering tomorrow. I also have a list of stuff I want, which basically is the whole catalog. LOL, I wish I had an endless supply of money. I bet everyone wishes that though.
If you would like a brand new catalog mailed out to you for free please let me know. You can fill out the contact link at the top of my website or email me at craftswithchris82414@gmail.com. You must be a US resident, because I can not mail outside the US. Thank you guys for following me on my Stampin Up journey and for all your support. Happy Thursday!!