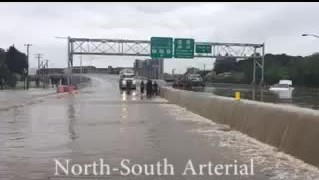 Hi, Guys,!!!
Happy Friday!! How is everyone doing? It's been a while since my last post. My kids are home for Summer vacation and we have been busy doing stuff. We were away for the holiday and right before we left our weather was very rainy. We had major flooding and thank goodness we were spared but our poor neighbors in our village and neighboring villages were not so lucky. We live near a creek and a river. We have had a lot of rain over the last few weeks and Saturday it poured so hard and so fast and with every body of water already at its top the flooding was ineviatble. Here are some pictures of the flooding
Now everyone is left with cleanup and wondering what if anything does their insurance cover. It's so sad to go down our streets just a few miles from where I live and see all the devastation and all of the people's possessions at the curb that is in garbage bags ruined from all the flooding.
We ended up going away for the 4th on a camping trip. We headed away from home, about 1 1/2 hours away up north. It was a nice trip. It was a relaxing trip and we had nice weather and were able to play lots of outside games. We even went into town one day and hit the local mall and went out to lunch.
I sure did miss being creative in my craft room though. I really miss when I do not get to play in a few days. It's my stress relief. So once we got home a few days later I was finally able to do a little catch up in my craft room. I finally picked my 1000 YouTube subscribers winner. I was waiting for more entries but only a handful entered. I don't know why more people do not enter? I guess the few that do enter stand a really good chance of winning. So I gave away the Hey Chick Stamp Set that was around during Sale-A-Bration. I am putting together a nice little package for the winner and hopefully will be able to mail it out Monday. I also ran a special on my Preferred Customers facebook page and some of my customers took advantage of that special. It was a free Stamp Set with a minimum purchase. My order from Stampin Up finally came in today so I will be getting out their thank you package with their free Stamp Set. I also acquired a few Paper Pumpkin Customers during that incredible $5 sale the other day so I am putting together Thank yous for them too. This is my favorite part of this Stampin Up journey. I love interacting with my customers and making cards for them and thinking about them. I really appreciate my customers.
I put together a video on making a card using the Emboss Paste from Stampin Up. I used the Colorful Seasons Stamp Set and Seasonal Layers Thinlits to make this card too. Here is the card
I love that Emboss Paste. I mixed Dazzling Diamonds glitter in the paste and the bricks are so sparkly. I love this stamp set and thinlits too. They are so great for all seasons.
I made a video on how I put this card together. Happy Friday!!
Here are all the supplies you will need to make this card.