Hi Guys!!!!
Happy Saturday!  I hope you guys are enjoying your Saturday!!  It has been a while since my last post and I apoligize for that.  I can not believe how busy I have been lately.  My son is done with Soccer this Sunday so that will give me a little more time for about two weeks and then he starts wrestling.  My oldest son is in all kinds of afterschool clubs and music stuff so he too is busy and keeping me and my husband busy.  Somedays I go one way and the husband goes the other and we each have a kid.  I am sure most of you guys with kids are the say way.  It's so crazy because I never did anything after school when I was the age my boys are now.  I joined a few clubs but the late bus always took me home and that's where I would stay for the rest of the night.
I went on my annual girls trip to Maine.  Me and my friend go on a bus trip every year to the Kittery Outlets for some shopping.  We stay overnight at the Anchorage Inn in York Maine.  It is so pretty and the Ocean is right across the street.  Here is a link to the hotel if you want to see it.
It takes about 6 hours on the bus trip to get their and back and that is with about an hour break.  We usually catch up on our sleep and do lots of talking and laughing.  This trip is sure good for us… it helps to get away and just have girl time every once and awhile.
I also did about 50 goodie bags for the kids this past week.  I love doing these and the kids just love them too.  I love that my 8th grader still asks for them because all his friends ask if his mom is making them.  I just love this.  I remember thinking as I was in the higher grades how it stinks we never had parties or anything during the holidays.  Here is a picture of the mass amount of goodies.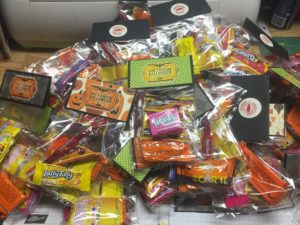 These were pretty easy to make.  I figured out one and then just mass produced.  It works out eaiser if you cut and stamp and get all your materials made as much as you can and then just assemble.  I used the new Stampin' Blends that are going to be available for purchase on November 1.  They are an alcohol-based ink markers and they are super fun to use.  They are so smooth and blending them are really easy.  You guys will love using them so much.  I love all the tools Stampin' Up! provides for us for our coloring.  I have never been able to color and make anything look as beautiful as I have since joining Stampin' Up!
There is still a little over 3 days left for the Designer Series Paper Sale buy 3 get one free.  Here is a link to shop for your paper. Hurry and get what you want today before its gone and off of sale.
I also was able to finally get a video made today.  It's been two weeks since my last video post.  I cant believe it has been that long.  I tried to do a 5-Minute Friday but didnt make it so I called this one 6-Minute Saturday.  It's a pretty fun technique that I learned a long time ago by my Demonstrator at the time.  Here is a picture of the card I made.  It is a good masculine card to have on hand.  I never have enough of those.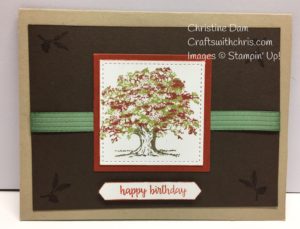 Here is the video to check it out
Happy Saturday!!!