Hi, Guys!!
Happy Tuesday!  I just wanted to hop on here quickly to let you guys know that I am going to be doing all kinds of specials this month.  It's my birthday month and I plan on celebrating all month long.  I know I am not the only one who celebrates all month long right?  It drives my husband nuts but isn't it a wife's job to drive their husbands crazy.  lol
So my first special is a set of 10 homemade cards with envelopes free to anyone who places an order through my online store.  No minimum purchase, this offer is good only through Sunday, August 6, 2017, until midnight eastern time.  You have to reside in the US to qualify.  You also need to leave your contact information so I can mail it to you.  Click here to shop at my store.
Some of you guys may have noticed a new look at my website.  My son who is 13 is helping me redesign my website.  He said "Mom you need a new look" Lol.  I think its great that he wants to help me out.  He is having fun and learning too.  I am having fun getting his help too.  So I would love feed back from you guys.  Let me know what you guys think?  What do you like and what don't you like.  Please, any info is helpful.
I have been working on my holiday calendars and here are a few more pictures of my progress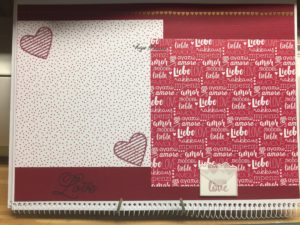 I love making these they are so much fun.  I am using a mish mash of products to complete these cute little calendars.  I also am working on my Card Club for the month of August.  I am hoping to have it ready in the next few days.  Stayed tuned all this month guys
Happy Tuesday