Hi, Guys!!
Happy Wednesday!  I hope everyone enjoyed their day!  It was a pretty quiet day here.  We had beautiful weather and the kids wanted to go in the pool.  The temperature was 70 degrees so I didn't dare go in.  The kids didn't care but they didn't stay in too long lol.  I sat on the deck and watched them play.  I love to hear them giggle and splash.  I could listen to that sound all day.
We ended up getting school supplies yesterday.  That is so stressful shopping for their supplies.  One is going into 4th grade and one is going into 8th grade.  Binders, and notebooks and folders and all kinds of stuff.  My youngest needed color specific notebooks and folders and my oldest needs a graphing calculator this year.  The cheapest I can get the recommended one is $86.  Yikes.  We are shopping for clothes next week and I am sure that will be just as much fun shopping for them.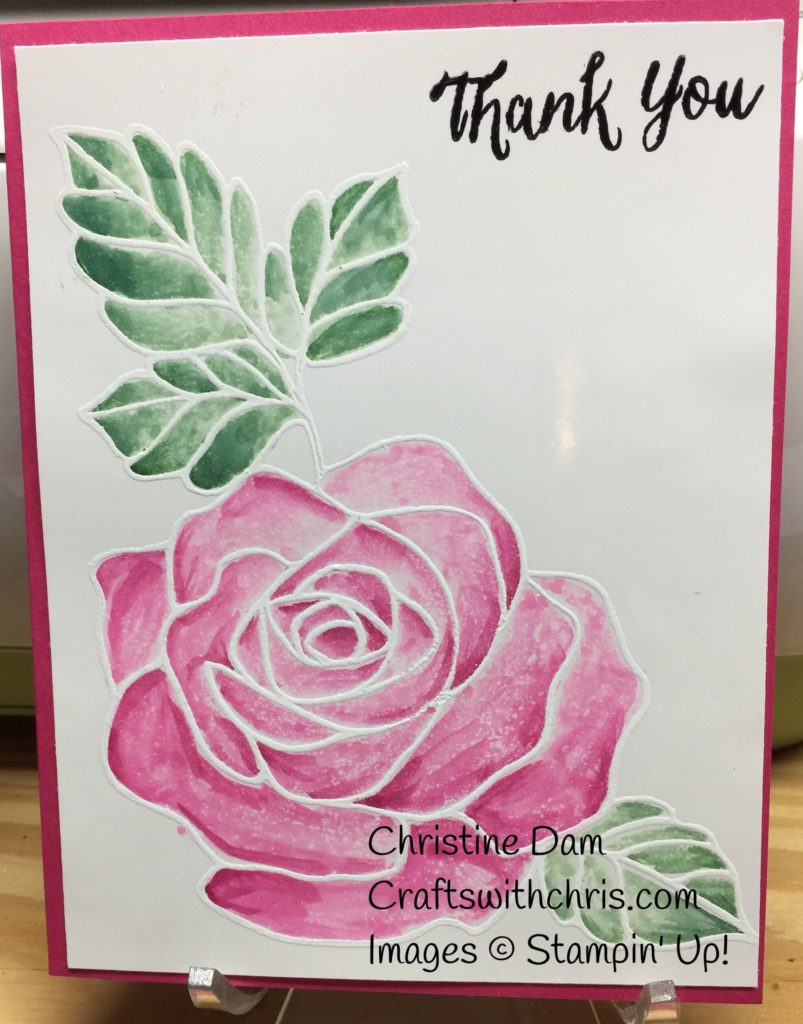 I was able to make a card tonight.  Don't you love it?  I stamped the rose on the Glossy Paper from Stampin' Up!  Have you tried the glossy paper?  Oh my goodness, it is so awesome and it works great to water color on.  So easy.
I used Melon Mambo for the A2 card base.  A2 size is 4 1/4 by 5 1/2.  If you cut your 8 1/2 by 11 Card stock in half you will get two A2 card bases.  I cut the glossy card stock at 4 by 5 1/4.  I used the Rose Wonder Stamp Set for this card.  I stamped the large rose on the glossy card stock with Versamark.  I then used white emboss powder and heated it.  I used an aqua painter with Rose Red Ink and Garden Green Ink.  If you squeeze the ink pads while closed they will put some ink on the bottom of the tray.  Then you can use that ink to color your rose.  I stamped the thank you in basic black and make sure you let the ink dry before you touch it because it will smear.  You can use your heat tool to speed the process up.  I used fast fuse adhesive because the glossy card stock is a little think and I wanted to make sure it stays put.  I left the inside blank but you could cut a piece of whisper white card stock at 4 by 5 1/4 to do a little stamping and have a white background for writing on.  The Rose Wonder set has a variety of sentiments for a bunch of occasions.
Did you guys know you can earn free Stampin' Up! products?  All you need to do is be a host. It's so simple.  You do not need to commit to anything.  Just contact me for a special code that you can share with all your family and friends.  If you have people buy at my store with the code you can earn Stampin rewards to use on products.  Here is some more info on this
If you have any questions at all please don't hesitate to contact me here
Happy Wednesday!!!