Hi, Guys!!!
Happy Friday!!  Yay, the weekend is here!  What are your plans?  I know some kids are already back in school but a lot of the kids here in NY go back the first week of September (13 more days but who's counting lol).  We have been so busy and we leave Sunday for out last Camping trip of the summer.  We can not wait, it is our favorite spot and we will be there for 4 days this year.  I don't know who active I will be on my social media sites over the next week but I will try.  My goal was to get a bunch of stuffed scheduled for all next week but that did not happen.  I don't know how people do things with more than 2 children!  I swear it feels like I have way more than 2 kids (well I guess I can count my husband as another kid right?)
I have not been as crafty as I would like to be as of late.  I have a bunch of stuff that I was able to preorder from the new Holiday Catalog.  Oh, my goodness everything in the Holiday catalog is awesome.  Would you like a new catalog mailed to you?  Just click here and fill out your mailing address and I will get one right out to you (only applicable in the US).
So I love the new 5-minute Fridays I started doing a couple weeks ago.  What do you guys think?  I love the challenge to create something and make the video 5 minutes long.  Here are the cards I made today using the Sheltering Tree Stamp Set and Tabs for Everything Set.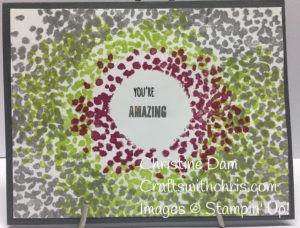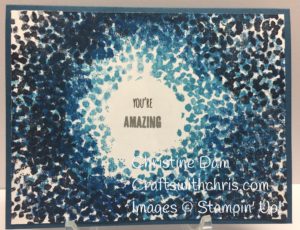 These cards were so simple and I love how they turned out.  I actually got this idea from a show I was watching on HGTV.  I don't remember what it was but a designer was doing a floor with this pattern.  It was all one color and they left a big circle in the middle.  You never know where inspiration will strike lol.  Here is the video I made I hope you guys enjoy!!
Happy Friday!!!